A ROUND-UP OF NEWS FROM THE YORKSHIRE ASIAN BUSINESS ASSOCIATION
A hearty Eid Mubarak and good wishes from all of us at YABA! We celebrated Eid this year in Partnership with Catherine Furlong, Foster Square Centre Manager Bradford. Catherine helped to arrange some amazing  street food flavours from across the globe to Bradford.  This was part of the Eats from the Streets campaign which, unlike any other food festivals, visitors were able to tuck into their food on a converted double decker Routemaster bus. Local traders such as Dabbawala: serving samosa chaat and onion bhajis; Dal-icious: serving Dal, Biryani and Lemon Kutu along with pakora and hot masala drinks; La Crepe House: serving a variety of sweet and savoury freshly made crepes and Queen Kulfi: serving traditional Indian ice cream, there was also by henna tattoo artists from Salma's Beauty Academy and Kala Sangam providing the  bhangra dancing entertainment. (See picture)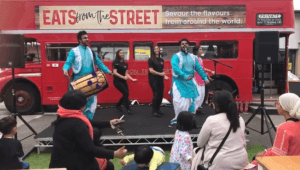 Last week, I really enjoyed visiting the new Leeds Beckett University business hubs based in the centre of Leeds, Halifax and Wakefield they have fantastic office capabilities and offer business support we will be working with the team to organise joint events and promoting information about scale up support, engagement with apprenticeships/interns, and access to high quality research and development, for the latest news and developments from Leeds Beckeett University please click here.
In April, we were honoured to be visted by the Chief minister of a Northern Indian state. Manohar Lal Khattar, chief minister of Haryana, brought a trade delegation with him to Yorkshire as part of ongoing attempts to strengthen ties between India and the UK please click here for the full article by Yorkshire Post reporter Ismail Mulla.
With our on-going efforts of taking Yorkshire to India, it was also really nice to be featured in BBG Connect which is glossy business magazine produced by the Mumbai Chapter of the British Business Group, please click here to read the article.
I am going to be changing the format of YABA Enews and include a Guest Blog and more information about our members and events, so if you have anything you want to share or talk about then please get in touch.
Finally, please don't forget to apply or nominate someone or a business for the YABA awards. The closing date for application/nomination is the 30th August 2018 and the celebration of the YABA Gala Awards Dinner is on the 27th September 2018. For further information please contact Sharon Jandu +44(0) 7807 474 885 or click here to book a table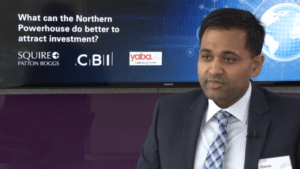 SQUIRE PATTON BOGGS – TRADE TALKS WITH SHERAD DEWEDI, YABA NORTHERN POWERHOUSE SPOKESPERSON
Against a backdrop of Brexit and the groundwork being set for the UK to become an independent global trading nation our clients increasingly need support and guidance, along with resources and contacts to help make strategic business decisions.  Lawyers from Squire Patton Boggs' Leeds office, International Trade Team and experts from across our network have been working together on "Trade Talks" an initiative which will cover the UK's key trading relationships such as US, China, the EU, Commonwealth, India and wider afield to keep our clients and contacts abreast of impact issues in this fast-paced environment.
The purpose of the Trade Talks initiative is to offer support and expertise to businesses who export from the UK or import to the UK, are looking for global investment opportunities or need to be aware of global economic and political matters.  Trade Talks features a series client facing recorded and written interviews with experts from SPB, the Confederation of British Industry (CBI), Yorkshire Asian Business Association (YABA) and other key business influencers and clients supported by roundtables and communications via social media, blogs, website and direct mailings. Please click here to view the interview.

PRIVATE CLIENT COMPASS WITH RSM
It is that time of year again when, as well as being bombarded with GDPR emails, you start to receive the paperwork required for your personal tax returns.  The tax system gets more complicated with each year and as a corporate partner to YABA, RSM have offered to provide a free personal tax review to YABA members to ensure their affairs are structured effectively.
To help you navigate your way through the tax system, RSM have also put together a Private Client Compass document, along with a series of videos, which outlines the key tax issues you should be thinking about from a personal perspective. These can be found at rsmuk.com/ideas-and-insights/private-client-compass
To request a hard copy of the Private Client Compass document or to organise a free personal tax review, please contact chris.etherington@rsmuk.com. 
RSM is a leading provider of audit, tax and consulting services to middle market leaders, globally. With around 3,800 partners and staff in the UK and access to more than 43,000 people in over 120 countries across the RSM network can meet clients' needs wherever in the world they operate. As an integrated team, they share skills, insight and resources, as well as a client-centric, collaborative approach that's based on a deep understanding of our clients' businesses. Please click here for a list of services offered from the  Leeds office which is the largest office outside of London

THE NATIONAL APPRENTICESHIP SERVICE (NAS) 
There has never been a better time to employ an apprentice or a trainee. Hiring apprentices helps businesses to grow their own talent by developing a motivated, skilled and qualified workforce.
Last year, the British Asian community represented only 4.1% of the overall apprenticeship uptake.  Mohammed Mayat from NAS is keen to talk to YABA members and address the stigma attached within the community, he has lots of case studies of how having an apprentice can really add value to your business. If you're interested in taking on an apprentice or offering a traineeship, please contact Mohammed.
Mohammed will also be launching a short apprenticeship survey which will feature in the next editon of YABA Enews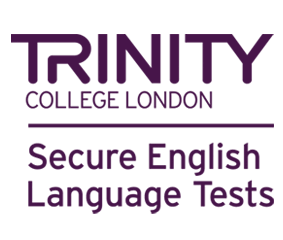 SECURE ENGLISH LANGUAGE TESTS (SELTs) APPROVED FOR BRITISH CITIZENSHIP, SETTLEMENT AND VISA APPLICATIONS
Trinity provides SELTs across the UK. SELTs are taken by people who need to demonstrate their English language level for the purpose of obtaining British Citizenship, Settlement or a visa for work or study.
The SELTs Trinity offer are:
GESE: Graded Examinations in Spoken English – approved for British Citizenship, Settlement and visa applications
A 6 minute (A1), 7 minute (A2), or 10 minute (B1) one-to-one speaking and listening test
For Trinity's GESE exams, candidates receive provisional results on the same day and certificates are usually sent within 7 days.
ISE: Integrated Skills in English – approved for Tier 1, Tier 2 and Tier 4 visa applications
A contemporary four-skills qualification testing reading, writing, speaking and listening
Trinity has 10 SELT centres across the UK with tests available up to 7 days a week in Belfast, Birmingham, Cardiff, Glasgow, Leeds, London Croydon, London Hammersmith, London Holborn, Manchester and Peterborough. Information about the SELTs offered by Trinity can be found at trinitycollege.com/SELT or on 0333 358 3183.
Become a Member
There are many benefits of joining YABA, from brand building to international opportunities, reaching new audiences and networking business-to-business. To find out more about YABA or to become a member please contact sharon@yaba.uk.com or visit our website.
For any observations, comments or further information please do not hesitate to contact me.
Kind Regards,
Amarjit Singh
Chairman of Yorkshire Asian Business Association