The Role of the Mentor
The Northern Max Accelerator (part of the Ad:Venture programme) launches on the 5th February, and draws on the success of the programme delivered last year.  It is designed to educate SME business owners or leaders in business essentials and aimed at early stage SMEs from a technology/digital background in the Leeds City Region.
The programme is made up of 10 x weekly half-day collaborative-learning workshops, each focusing on a thematic business skill or competency. Around this are the support layers provided via mentors.  Mentors are individually assigned to each beneficiary for the duration (mentors will typically support an average of an hour a week over the programme duration). Filling this crucial role are technology, financial, marketing legal or market research experts – depending on need.
The role of the mentor will vary by necessity across a broad range of support roles – mentor, coach, advisor, supporter …. the importance being that the role is supportive AND challenging.
The mentor can be summarised as below: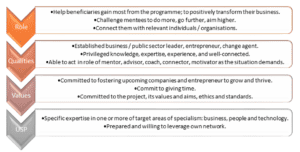 The Northern Max team are actively seeking volunteer mentors to support this years' cohort.  For further information please contact Russell Copley, rcopley@greenborough.com or Michelle Davis, mdavis@greenborough.com