Featuring the Guest Blog…
Did you know last year, the British Asian community represented only 4.1% of the overall apprenticeship uptake? Over the last year I have been working with YABA to understand why this stat is so low and trying to address the stigma attached within the Asian community. My role at National Apprenticeship Service (NAS), which is an agency within the Department for Education (DfE), has given me the opportunity to meet with employers and gather lots of examples of good practice, compelling case studies where apprentices have really made a great a contribution to the business and I can tell you there has never been a better time to employ an apprentice or a trainee. Hiring apprentices helps businesses to grow their own talent by developing a motivated, skilled and qualified workforce
I am really keen to talk to YABA members and I would like to do this by organsing a round table discussion early September please get in touch if you would like to be involved. I am also launching a short survey about the changes to Apprenticeships and to help you access any additional support or advice you may need. I would be grateful if you could take a few minutes to complete the survey. Your participation in this survey is voluntary and you may opt out of any question. All of your responses will be kept confidential. They will only be used for statistical purposes and will be reported only in aggregated form. Please click here for the survey.
Thank you in advance for providing this important feedback and I look forward to meeting you at the YABA Awards dinner in September
Mohammed Mayat Intermediary Engagement Manager
National Apprenticeship Service
Education and Skills Funding Agency
YABA 2018 AWARDS
Thank you Leej Walker MD of the Business Desk for the excellent piece in the Business Desk on the YABA 2018 Gala Dinner Awards please click here for the full article.  Leej, joins Mark Casci Business Editor of the Yorkshire Post, Sanjiv Batoo MD BBC Radio Leeds, Juliette Healey Regional Agent Bank of England and Noor Ali Category Manager World Food Wm Morrisions on the judging panel for the awards.
The YABA award entries are still open so a great opportunity to nominate your business or a business that you think deserves to win.
If you attended in 2017, you'll remember the fabulous atmosphere, gorgeous food and inspiring winners – take a look at the video below if you were too busy networking to take it all in, and if you didn't attend watch the video here  to find out what you missed!
With the Annual Awards Dinner now in its fifth year the event has grown into one of the most prestigious celebrations in the Yorkshire Business calendar, our partners include Leeds Beckett University, the National Apprenticeship Service, Department of Industry and Trade, DLA Piper, My Lahore, Elegance Event Management, Cobra beers, BQ, ICO Entertainment, Bradford Cedar Court, Ideas that Work and many more are joining the team to make the event a huge success.
For further information please contact Sharon Jandu +44(0) 7807 474 885 or click here to book a table
REACHING THE SUMMIT
A special event organised for women who to achieve personal and business growth, I am delighted that we supporting the Women in Business Network (WIBN) Reaching the Summit event on the 8th November 2018.
To be inspired, stay focused and expand your business, learn, lead and reach towards your personal summit please attend this event, for further information  contact paula.grizzard@wibn.co.uk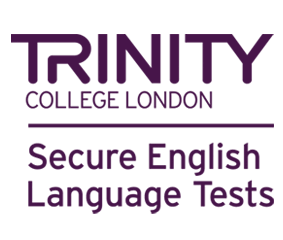 SECURE ENGLISH LANGUAGE TESTS (SELTs) APPROVED FOR BRITISH CITIZENSHIP, SETTLEMENT AND VISA APPLICATIONS
Trinity provides SELTs across the UK. SELTs are taken by people who need to demonstrate their English language level for the purpose of obtaining British Citizenship, Settlement or a visa for work or study.
The SELTs Trinity offer are:
GESE: Graded Examinations in Spoken English – approved for British Citizenship, Settlement and visa applications
· A 6 minute (A1), 7 minute (A2), or 10 minute (B1) one-to-one speaking and listening test
For Trinity's GESE exams, candidates receive provisional results on the same day and certificates are usually sent within 7 days.
ISE: Integrated Skills in English – approved for Tier 1, Tier 2 and Tier 4 visa applications
· A contemporary four-skills qualification testing reading, writing, speaking and listening
Trinity has 10 SELT centres across the UK with tests available up to 7 days a week in Belfast, Birmingham, Cardiff, Glasgow, Leeds, London Croydon, London Hammersmith, London Holborn, Manchester and Peterborough. Information about the SELTs offered by Trinity can be found at trinitycollege.com/SELT or on 0333 358 3183.
A HEARTFELT FAREWELL…
Our President, Ajaz Ahmed, has now finished his term at YABA, even though he has enjoyed his time with YABA due to other commitments he is unable to serve another term.
I would personally like to thank Ajaz for his time and commitment during his term and he has promised (diary permitting) to continue to attend future YABA events.
BECOME A MEMBER
There are many benefits of joining YABA, from brand building to international opportunities, reaching new audiences and networking business-to-business. To find out more about YABA or to become a member please contact sharon@yaba.uk.com or visit our website.
For any observations, comments or further information please do not hesitate to contact me.
Kind Regards,
Amarjit Singh
Chairman of Yorkshire Asian Business Association